Happy Halloween!

Here are some fun treats you can make for Halloween!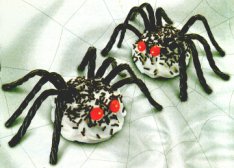 Cool Spider Treats:

You'll need: Cupcakes
1 tub (8 oz.) cool whip topping, thawed
chocolate sprinkles
black or chocolate licorice
candies

1. Make cupcakes following directions of your package and let cool completely

2. Frost upside-down cupcakes with cool whip

3. Sprinkle with chocolate sprinkles

4. Insert licorice pieces into tops of cupcakes to create spider legs

5. Top with candies for the creepy eyes.





insert image of fudge treats (coming soon)

Spooky Fudge treats:

You'll need:
3 cups (18 oz.) semi-sweet chocolate chips
1 (14 oz.) can 'Eagle Brand' creamy Chocolate or Original Sweetened Condensed Milk (NOT evaporated milk)
1 tbsp. vanilla extract
toppings: flaked cocount, sprinkles & assorted candies.

1. In heave saucepan, over low heat, melt chips with 'Eagle Brand'. Remove from heat, stir in vanilla

2. Chill for 2 hours or until firm

3. Roll into balls or shapes and decorate. Chill 1 hour or until firm. Store tightly covered. Makes 3 dozen

TIPS: licorice makes great whiskers and legs. Red hots and diagonally cut taffy squares make great eyes and ears.



Email